Coming soon to Miami Beach Convention Center!
Balfour Beatty to build new
Grand Hyatt Hotel
Harkers Island Bridge Replacement
Our team on the Harkers Island Bridge Replacement project in Harkers Island, North Carolina, is racing toward a major milestone!
Crews have been diligently working to finalize all pile driving operations, including placing the final four bridge piers and installing approximately 125 concrete sheet piles.
Congratulations to this incredible team of Relentless Allies whose commitment is helping build a stronger, more connected community!
Blazing Trails
Driving trucks, designing roadways, processing payments to vendors and suppliers, coordinating equipment and overseeing health and safety. What do all these activities have in common? On the Oak Hill Parkway project in Austin, Texas, all these tasks are performed by women.
The number of women in construction is the highest it's ever been; as of a 2022 study, 14 percent of construction workers are women. 15 women currently work on the Oak Hill Parkway joint venture, 8 of them being Balfour Beatty women. Women on the project come from diverse backgrounds and experiences and hold a wide range of roles on-site, from craft to administration and everything in-between.
"The women on this project have such fundamental roles," says Ellie McBride, a lead construction engineer on Oak Hill Parkway. "This project is living proof that there are no jobs women can't do. Nothing is off-limits."
Read More
Northeast Water Purification Plant (NEWPP) Expansion
Ever wonder how water goes from the ground to your faucet? Check out this drone footage of the City of Houston's Northeast Water Purification Plant (NEWPP) expansion to experience the magnitude of the facility and the vast ecosystem of construction activities that are expanding its capacity. When complete in 2024, NEWPP will be able to deliver 400 million gallons of fresh drinking water per day to the greater Houston community. Balfour Beatty is honored to be delivering the North Plant section of one of largest progressive design-build projects in North America.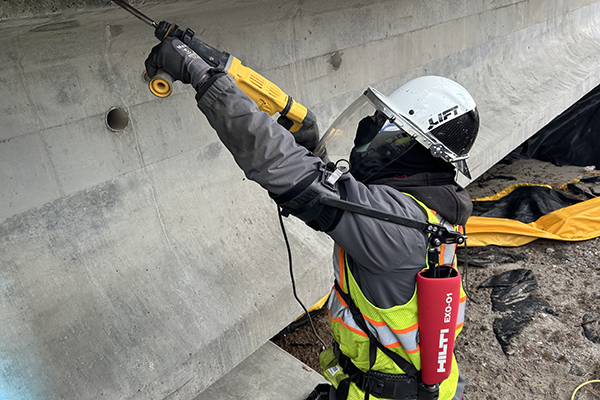 Balfour Beatty Team Puts Exoskeleton Device to the Test
On our Harkers Island Bridge Replacement project in Harkers Island, North Carolina, Balfour Beatty is testing new exoskeleton technology that has exciting potential to reduce injuries and boost efficiency for overhead work.
The Hilti EXO-01 passive assistance exoskeleton uses a steel frame, comfortable body straps and high-tension rubber cables to keep the user's arms raised overhead under tension, thus requiring less effort to lower the arms. Ultimately, the technology's goal is to minimize fatigue and prevent injuries by supporting the shoulder joint.
The Harkers Island team is currently testing and evaluating the applications of one EXO-01 exoskeleton device. Their dedication to exploring new tools and technologies that help our teammates and trade partners work more safely is a powerful example of Balfour Beatty's people-first Zero Harm commitment.
LEARN MORE