Making safety personal 100% of the time.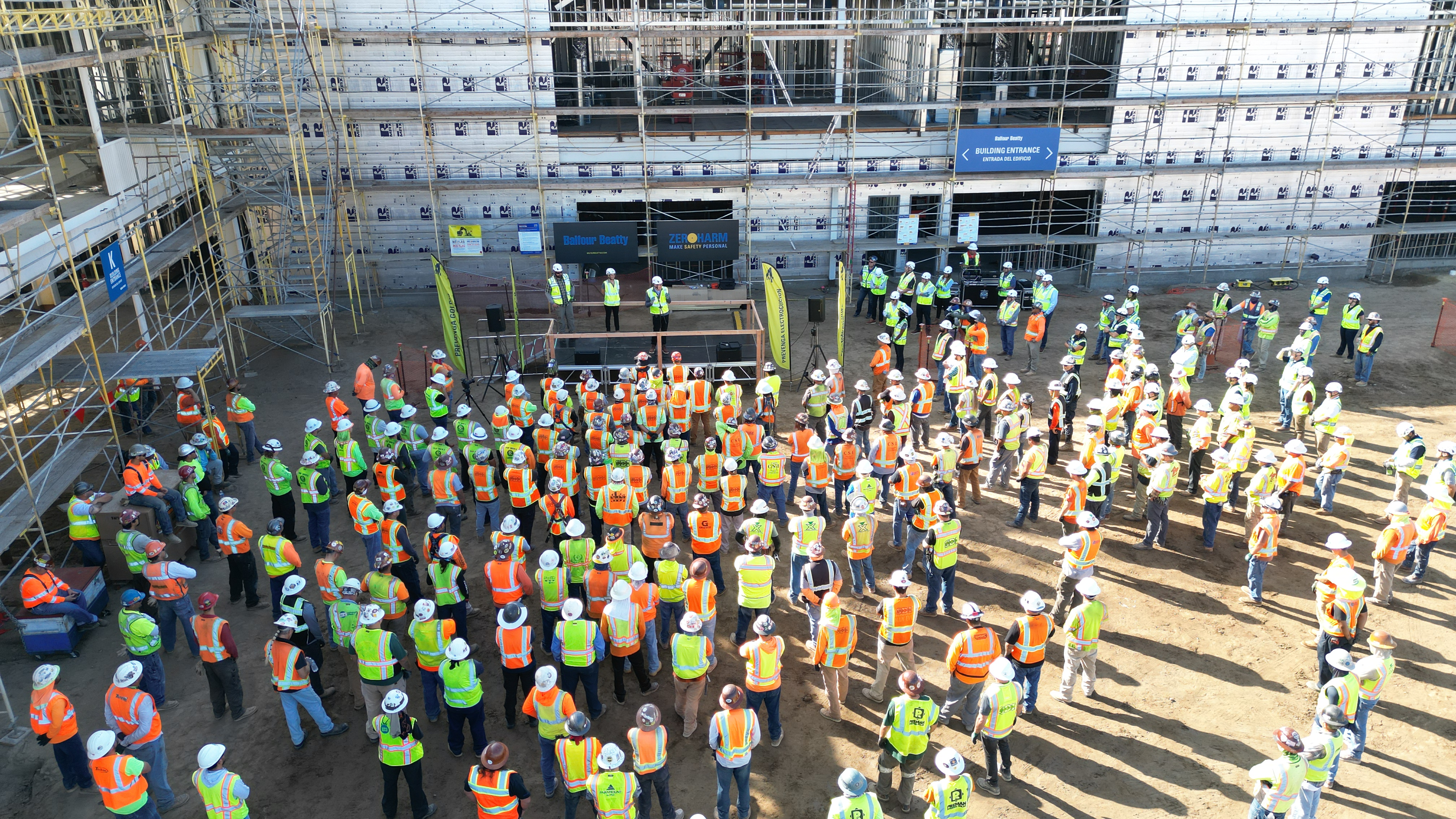 Vision
Golden Rules
Non-negotiables
What Three Things
See Something, Say Something
One Second, One Choice
Zero Harm Vision
Originally launched in 2008, Zero Harm is ingrained in our culture and is central to our way of life and thinking at Balfour Beatty. Safety is owned by everyone at Balfour Beatty, not just by the safety professionals.
Zero Harm was born from a desire to lead the development of safety practices that would change our industry. Over the years, we have evolved and enhanced our ability to identify the root cause of incidents and drive change through safer processes and procedures—creating safer work environments for our workforce.
We have partnered with OSHA to develop better training programs for both our staff and our workforce. We've placed importance on enhanced communications by providing safety messages and instructions in both English and Spanish. Our Zero Harm Non-negotiables exceed OSHA requirements and align our safety practices across our project sites. Our drive for continuous improvement fosters a learning culture where every high potential incident is shared so that the lessons learned are embedded on all projects nationwide.
Today, our Zero Harm program is stronger than ever. It has saved untold lives and has become synonymous with our people-first culture. The program unifies a common set of safety behaviors, methodology and a common language for every person on every project and workplace. It is the way we connect, communicate and protect each other.
Our work with Zero Harm will never be done. We will continue to study and challenge ourselves to improve, and we will continue to work as leaders to make our industry safer by making safety personal.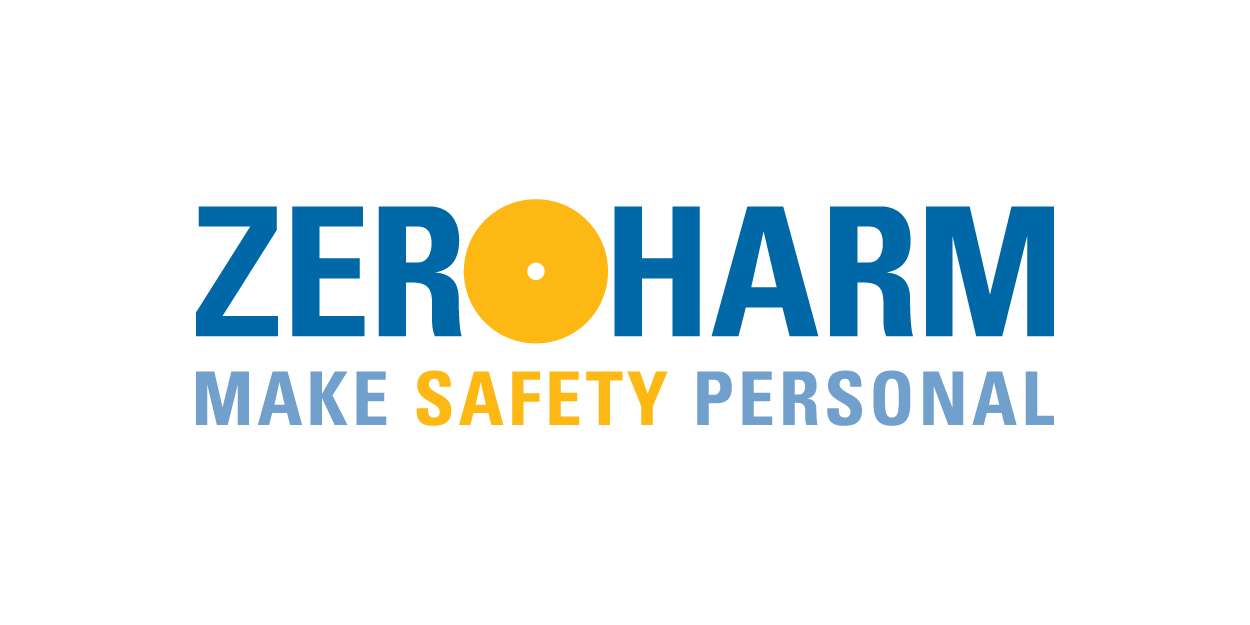 Golden Rules
Nothing matters more than your health and safety – that's our golden rule. We care so deeply that we have developed four necessary steps to ensure everyone's safety on our jobsites. The rules are golden because your life is.
Nada es más importante que su salud y su seguridad – esa es nuestra regla de oro. Nos importa tanto que hemos elaborado cuatro pasos necesarios para garantizar la seguridad de todos en nuestros sitios de trabajo. Las reglas son de oro, así como sus vidas.
BE FIT FOR WORK
ESTAR APTO PARA SU TRABAJO
ALWAYS CONDUCT OR PARTICIPATE IN A PTP/JHA BEFORE STARTING WORK
ANTES DE EMPEZAR A TRABAJAR, SIEMPRE REALIZAR O PARTICIPAR EN UNA PPT/ARO
REPORT ALL UNSAFE EVENTS AND CONDITIONS
REPORTE TODOS LOS SUCESOS Y CONDICIONES INSEGURAS
STOP WORK IF ANYTHING CHANGES
PARE DE TRABAJAR SI ALGO CAMBIA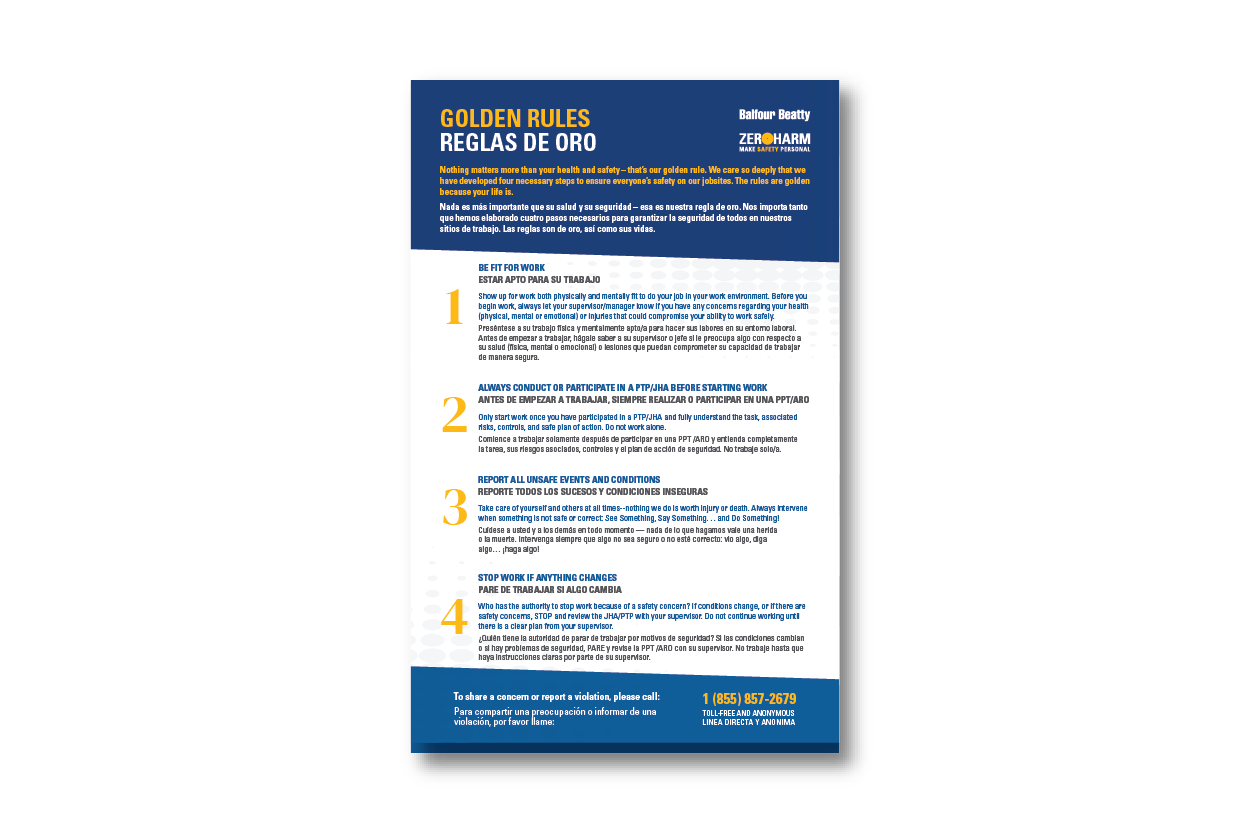 Top 10 Non-negotiables
Our non-negotiables define areas where Balfour Beatty safety requirements go above and beyond OSHA requirements. These best practices have been developed over our Zero Harm journey. When it comes to our non-negotiables, these are not choices; rather, they outline our commitment to operate and protect every worker and the public at all Balfour Beatty project sites. The non-negotiables align technical safety procedures with industry trends and specifically identify non-negotiable work site safety protocols that surpass industry standards and norms to make our projects a safer environment for all workers.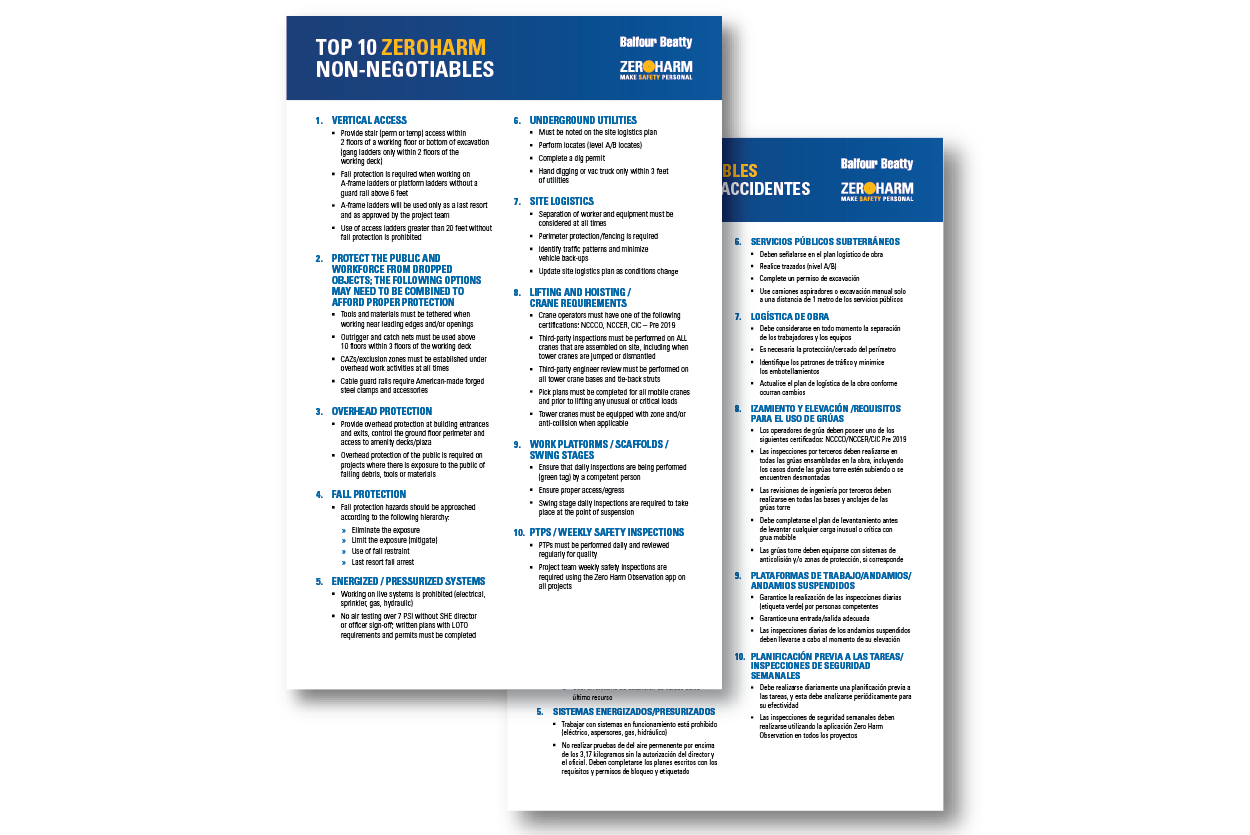 What3Things?
What3Things is a simple summary of three key prompts that should be applied to each of the fatal risks. They are to be used in conjunction with our Golden Rules and remind the workforce of the key measures that must be considered and put in place before work begins. What 3 things can keep you safe? That is a constant question at our work sites.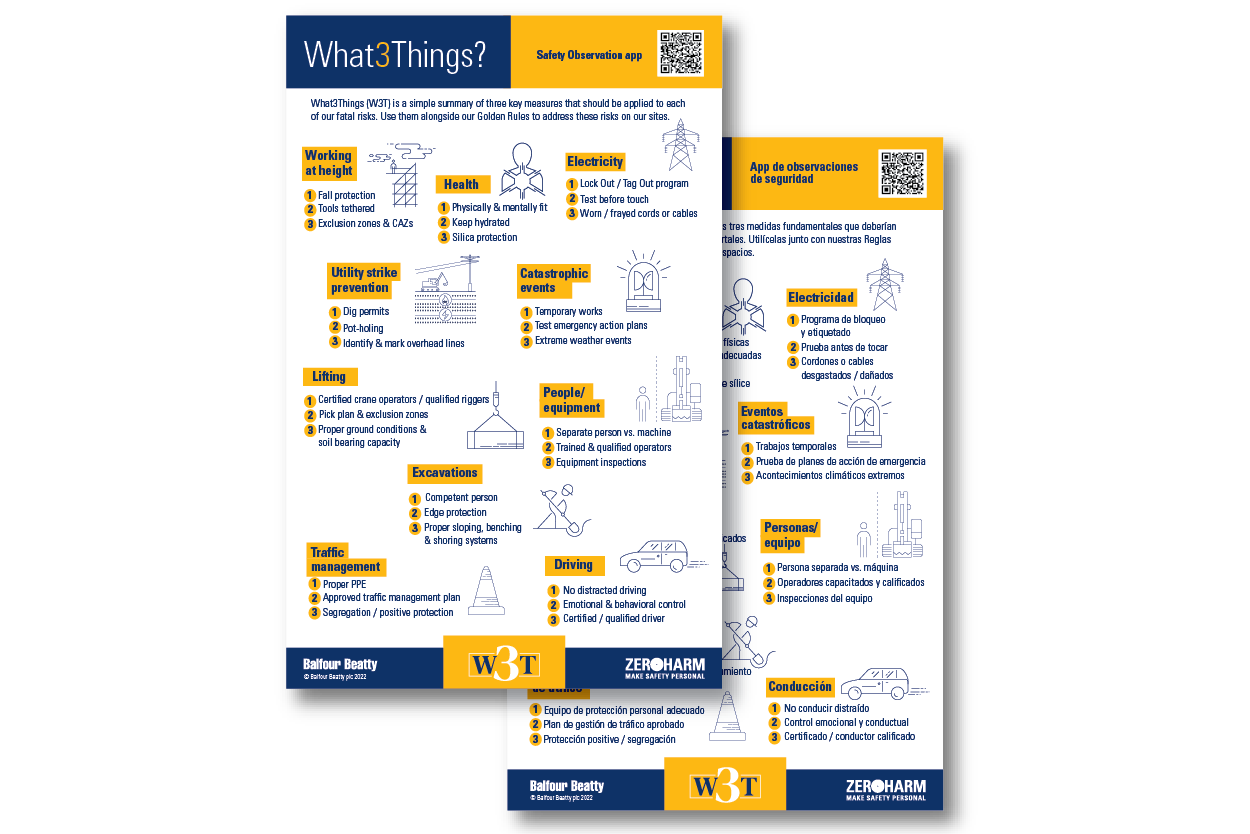 See Something, Say Something
In 2017, we launched the See Something, Say Something initiative, letting everyone who comes into contact with a Balfour Beatty workplace know that it is both their right and responsibility to voice concerns if they observe an unsafe act or condition. In 2022, our teams took it a step further and empowered anyone who comes in contact with our work to "do something" if speaking up isn't enough. Our teams work hand-in-hand with our industry partners to create a culture where everyone is empowered to speak up on behalf of the health and safety of anyone who comes in contact with our work.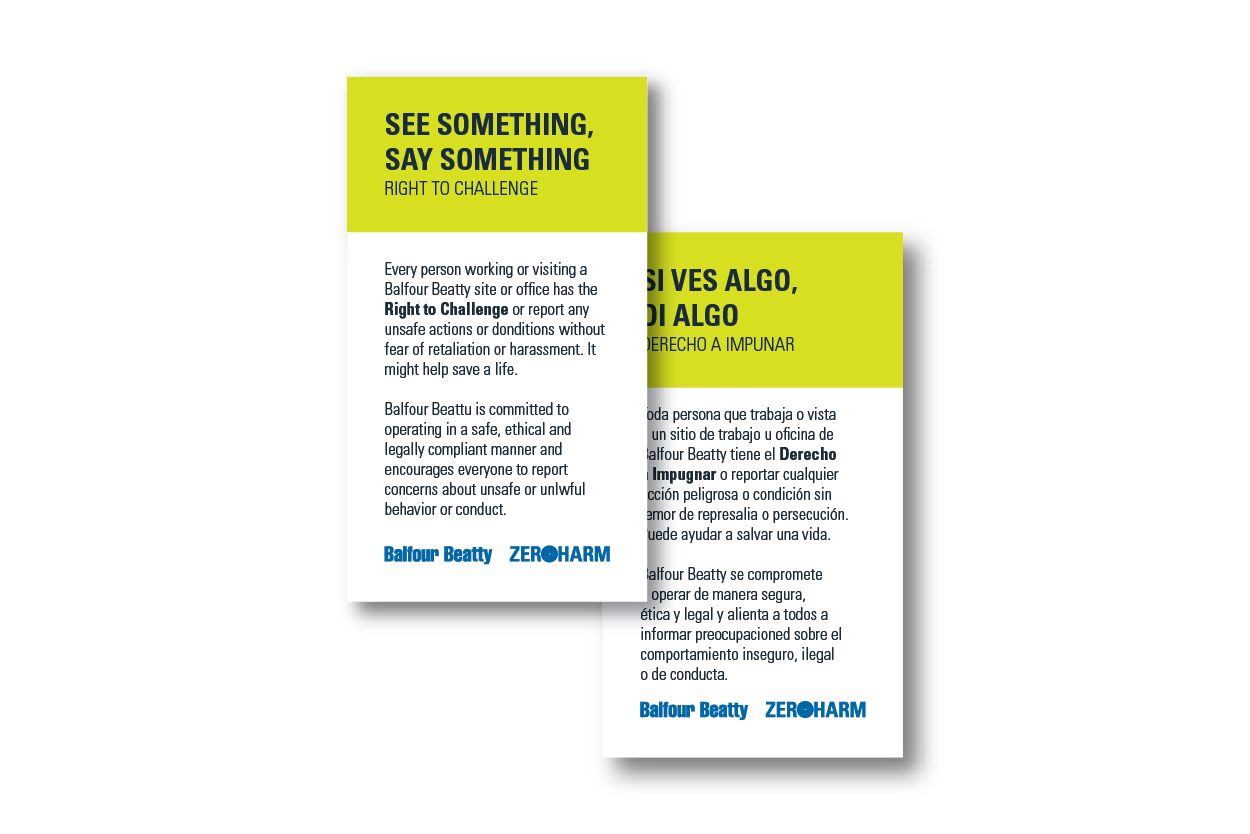 One Second, One Choice
Originally launched in 2008, Zero Harm is ingrained in our safety philosophy and central to our way of life and thinking at Balfour Beatty.
One Second, One Choice reinforces the personal decision to make safe work choices. It provides an important reminder that a split-second choice can change a life forever—be it a choice you make for yourself or a choice you make about speaking up when something doesn't look right. It gives everyone on our projects a voice and the power to stop and think about the safest way to proceed to make the right choice for safety. When it comes to safety, every choice matters; each and every second counts. There is not one choice or one second that can be taken for granted when lives and wellbeing are at risk. There are no do-overs.
Safety Information
Our safety protocols extend beyond our workplaces and address anyone who may come into contact with our work. Here are quick ways to get in touch with us and reminders to keep everyone safe.
Zero Harm is Ingrained in Everything We Do
Safety is a deeply personal issue—one that reaches beyond our jobsites to impact families and individuals in ways both great and small. We want to ensure that everyone is safe 100% of the time, on 100% of our projects, and we will do everything in our power to achieve this. At Balfour Beatty, Zero Harm is a way of life.
Pre-Task Planning
A good pre-task plan can save a life. And make no mistake, there is a right way and a wrong way to conduct a pre-task plan meeting with jobsite teams. At Balfour Beatty, we want to ensure everyone is fully engaged, understands the plan, aware of any changed conditions and is empowered to speak up.
Suicide Prevention: Our Collective Responsibility
Suicide prevention is a vital component of Balfour Beatty's commitment to Zero Harm. As an industry leader in a field that consistently experiences high suicide rates, Balfour Beatty aims to inspire our teammates, trade partners and peer organizations to recognize the warning signs of suicide early and act accordingly, and to provide employees with vital mental health resources.
One of Balfour Beatty's priorities is that every person – on a jobsite or in an office – is fit for work. Work-ready fitness is not just a state of physical health and readiness but also of emotional and mental health. When workers are mentally and emotionally healthy, they feel better equipped to approach their work with focus and clarity, reducing accident and injury risk and benefiting every aspect of their teams and projects.
According to the U.S. Centers for Disease Control and Prevention (CDC), construction workers have the second highest suicide rate of any vocation in the nation. Contributing factors are believed to include:
Periods of unsteady or seasonal employment
Mental health stigma
Sleep disruption
Chronic pain related to manual labor
Jobsite travel, which may separate workers from social support circles
Frequent physical strain
Access to means of committing suicide
Pressure to finish projects
Whatever the cause of an individual's mental health struggle, our mission as a community of construction professionals is to reduce construction worker suicide rates.
Advancing Zero Harm - Every Day