Wayne Kibbe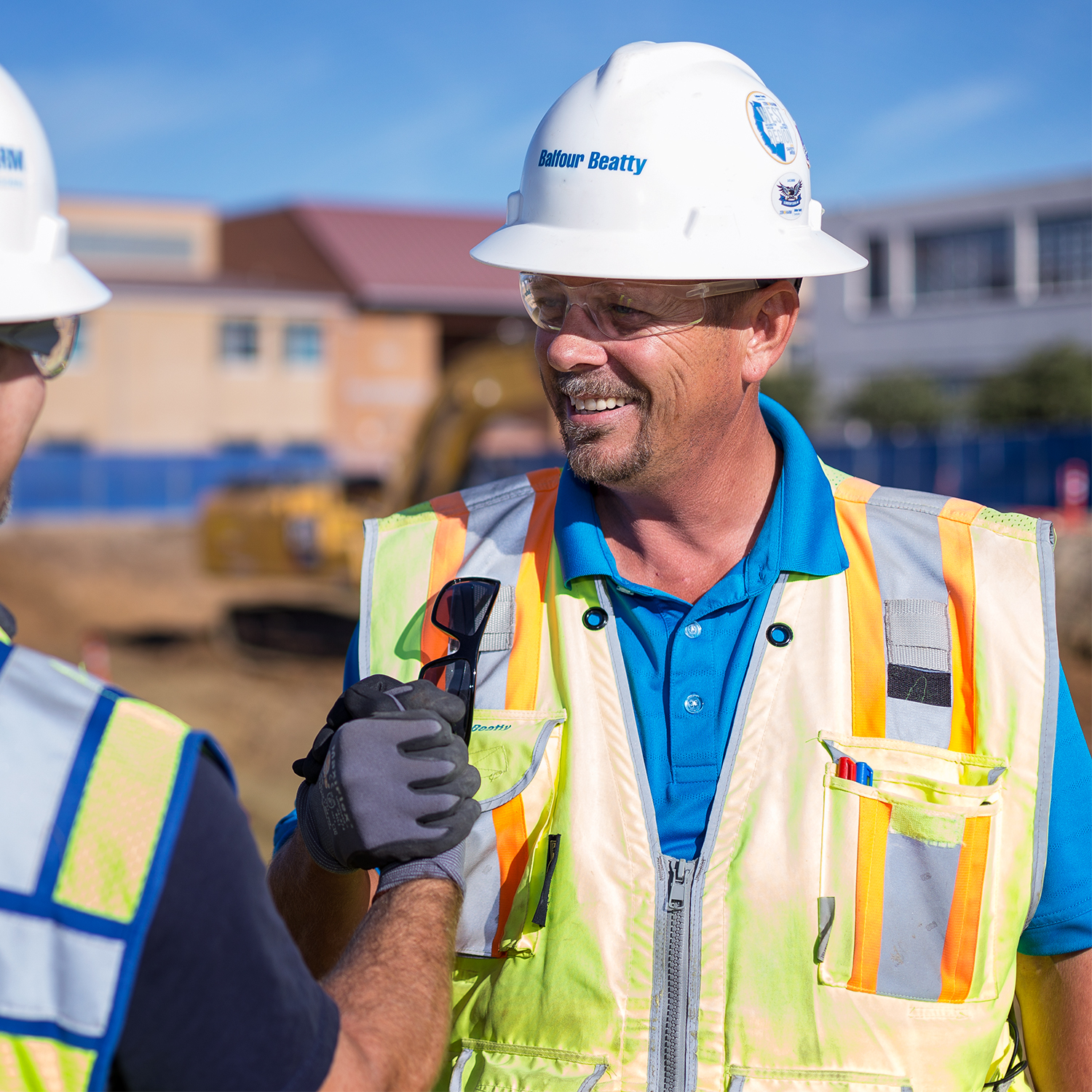 Relentless Ally
Named Superintendent of the Year
Balfour Beatty's own Wayne Kibbe received recognition for his tremendous efforts and joyous spirit.
"Now, the moment you have all been waiting for, the winner of the 2019 General Contractor Superintendent of the Year Award goes to Wayne Kibbe of Balfour Beatty."
The audience, full of Wayne's gleeful nominators, erupted into praise. Both surprised and honored, he walked towards the stage and humbly accepted the award and well-deserved recognition as one of San Diego's best superintendents.
Wayne developed his love of construction from watching his dad work as a lineman. He also watched his next-door neighbor build his own house, From that point on, Wayne knew what he wanted to do with his life—become a builder. Equipped with a strong sense of drive and ambition, he set a target and took every construction class offered at his high school. He worked part-time in various trades to equip himself with the knowledge and skillset to work towards his goal. Wayne even had the opportunity to assist in building three homes while still in school.
Upon graduation, Wayne began his first full-time role working for a general contractor. He proudly accepted a position working in the field, applying his newly developed skills at what would unknowingly be his forever home–Balfour Beatty.
Working his way up through the company, Wayne established himself as a high achiever and quickly moved from skilled laborer to carpenter, then from assistant superintendent to now general superintendent, where he continues to thrive. Able to easily navigate and overcome project setbacks while maintaining an amicable and confident demeanor, Wayne cultivates a sense of unification, safety and mentorship.
Wayne enjoys the opportunity to successfully deliver top-notch projects for many education clients and school programs throughout California. Some of his recent projects are within the San Diego Unified School District and Chula Vista Elementary School District. Our clients at San Francisco State University know Wayne for successfully delivering projects, maintaining a high level of integrity, and most importantly, being a friend to all.
With more than 32 years of experience working in the industry, Wayne's work ethic and personal drive to succeed emanates on the jobsite, inspiring those around him to continue working towards greatness. When you step foot onto one of Wayne's projects, there is an overwhelming sense of pride carried by every team member.
The Associated Subcontractors Alliance (ASA) San Diego annual award's program recognizes outstanding companies and individuals in a variety of categories. Only members of ASA can nominate candidates, making the awards a great honor for those nominated, and especially so for those who win. It came as no surprise to those who work with Wayne that he received the General Contractor Superintendent of the Year Award.
From all his friends and teammates at Balfour Beatty, and from around the industry, we are proud to congratulate Wayne for this merited achievement and commend him on his positive attitude, passion for building and his unwavering desire to bring client visions to life.