Dimelina Mora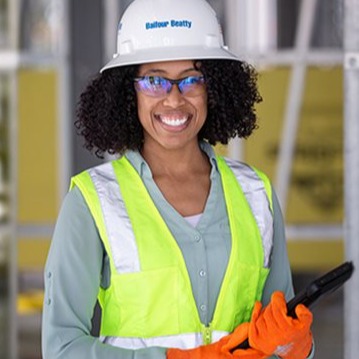 Relentless Ally
A Lifelong Learner and Admired Advocate
Inquisitive by nature, Dimelina Mora enjoys learning from the different perspectives and backgrounds of her colleagues and industry peers, gaining what she calls "an ever-growing catalogue of knowledge." By proactively seeking to learn from others, Dimelina has grown personally and professionally while making an impact on those around her. She values the diversity of Balfour Beatty employees and the unique backgrounds they bring to the table, including how our people influence the clients and partners with which we interact and the influential dialogue we lead within our company and industry.

Dimelina didn't always have her sights set on a career in construction. During her sophomore year of college, Dimelina was searching for an internship to gain experience and exposure to the workforce, primarily setting her sights on the design industry. It was by happenstance that an opportunity with Balfour Beatty emerged.

As a member of the American Society of Civil Engineers, an organization in which Dimelina still participates today, she was coordinating a career fair for her peers. Balfour Beatty recognized her talent in managing the event and requested her resume—and the rest is history! Beginning as an intern, Dimelina has built her nine-year career exclusively with Balfour Beatty.

Dimelina's first internship included working on a Special Projects Group (SPG) interior renovation for Georgia Tech's School of Civil Engineering, more formally known as the Mason Building. Although she was originally hesitant to pursue general contracting due to a lack of exposure about the field, she credits her internship with Balfour Beatty as instrumental in changing her outlook on the trajectory of her career and discovering her passions in the industry.

She describes her internship experience as both rewarding and collaborative: "From trade partners to clients, everyone was eager and willing to share their wisdom, best practices and experiences with me. It was a wonderful learning environment."

Today, Dimelina is a project manager with Balfour Beatty's SPG team based out of Atlanta, Georgia, and she has made it her mission to raise awareness regarding opportunities in the construction industry. Specifically, she focuses on educating K-12 students—especially students with diverse backgrounds—on opportunities in Science, Technology, Engineering and Mathematics (STEM) fields and occupations.

Frank Fotia, project executive with Balfour Beatty's SPG in Georgia, praises, "Dimelina is a key member of our Atlanta SPG team and displays the type of positivity, teamwork and collaboration we want on all our project teams. She's made her home here at Balfour Beatty and continues to grow our client base and make us better. Her passion for our industry and the many types of people who surround her is infectious."

Dimelina believes Balfour Beatty's foundation for success is rooted in the company's advancement of Diversity, Equity and Inclusion (DE&I) initiatives. With this core belief as a guiding principle, Dimelina has served on both the National Association of Women in Construction (NAWIC) board as well as the American Society of Civil Engineers Younger Members (ASCE YM) board. She also actively participates in workshops with non-profits such as Goodwill and hands-on service and training programs led by organizations such as West Side Works, a program for individuals with diverse backgrounds.

"The more perspectives we have, the more well-rounded individuals and organizations we become," she asserts.

Dimelina is also a passionate advocate for increasing women's representation in construction. She advises women in the construction trades to be "vivacious," and to "do one thing every day that makes us proud and one thing that plants a positive seed for the future."

Although Dimelina may not have originally dreamed of pursuing a construction career, she has not only seized every opportunity in her path but also expanded her sphere of influence within Balfour Beatty, her industry and community—growing exponentially as a builder and leader.