Alex Ramos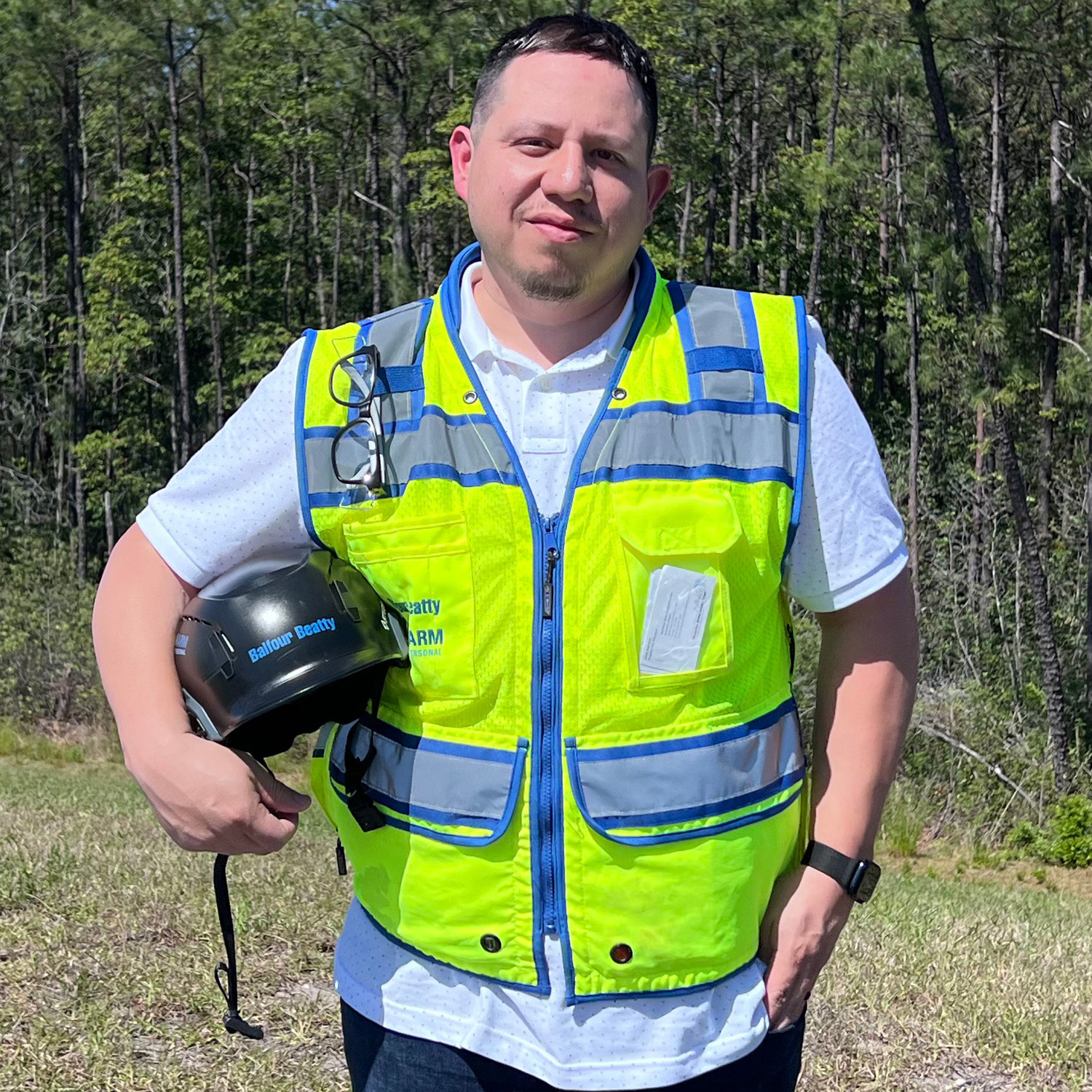 Relentless Ally
Striving for Safety
When thinking of construction safety, images of hard hats, protective glasses and neon vests come to mind. But safety encompasses so much more than personal protective equipment—every choice counts, and a split-second decision on a jobsite can change a life forever.
Alex Ramos, a safety, environmental and health manager for our civils operations in the Southeast, is passionate about making safety personal, constantly seeking to enhance his safety expertise and ensuring that all of his teammates, when faced with difficult decisions, are equipped to make the right choices.
Managing Across Miles
Balfour Beatty's industry-leading commitment to safety was the primary factor that drew Alex to pursue a career with Balfour Beatty. Before joining our team, he worked for a safety consulting firm, but Balfour Beatty's steadfast dedication to Zero Harm stood out from the pack and led him to join the business in 2017.
Today, Alex travels throughout the Southeast conducting safety audits, offering safety management guidance and providing ongoing training for our teammates and trade partners. Whether he is at our Harkers Island Bridge Replacement project in Harkers Island, North Carolina, the Effingham Parkway project in Rincon, Georgia, or any of the large-scale infrastructure projects on which he oversees safety, Alex can always be found with his sleeves rolled up, working tirelessly to ensure our teams and surrounding communities stay safe.
On any given day, Alex is responsible for managing safety across 10 or more jobsites in multiple states. Unlike a high-rise development in which workers remain within a relatively small geographic radius, crews on civil infrastructure projects are often spread out across many miles. This might make the task of managing safety daunting to some, but Alex has honed his training and audit practices to ensure no safety issue is overlooked. Many of Balfour Beatty's safety requirements exceed those of the Occupational Health and Safety Administration (OSHA), and Alex believes in his teammates' leadership to maintain safe jobsites.
"Safety is more than just an aspect of what we do, it's deeply woven into the culture at Balfour Beatty," says Alex. "When it comes to keeping our jobsites safe, the key is teamwork. Just as it takes a team to complete a construction project, it takes a team to make sure each and every person on our jobsite and in the surrounding community stays safe."
Alex is a firm believer that communication is the foundation to safety. Although Alex regularly visits the jobsites he manages, he can't be everywhere at once. Because of this, he relies heavily on personal touchpoints with his teammates. Alex ensures that everyone on-site is empowered to contact him with questions or concerns but also trusts project engineers, project managers, superintendents and forepeople to effectively monitor safety.
While it is easy to get caught up in the minutiae of day-to-day operations, Alex encourages his teammates to regularly step back and look at the bigger picture of safety. Through a three-question call-and-response at the beginning of every meeting, Alex helps keep his teammates focused on safety fundamentals.
Question: Whose job is safety?
Answer: Mine.
Question: Are you committed to "Zero Harm"?
Answer: Yes.
Question: Who has the authority to stop work because of a safety concern?
Answer: I do.
"Keeping those three questions at the forefront of everyone's mind ensures that we are all on the same page," says Alex. "Whether I am on-site or not, our teams make sure that safety is always effectively communicated."
Making Safety Inclusive
One of the most important steps to getting on the same page is ensuring everyone on our jobsites understands safety materials. According to the National Association of Home Builders, nearly one in three construction workers identify as Hispanic/Latinx, and approximately half of construction laborers identify as Hispanic/Latinx. Translations of these essential materials allow our teams and partners to make informed, safe choices when faced with split-second decisions.
Alex, who is fluent in Spanish, has also gone above and beyond his day-to-day responsibilities by helping translate company-wide safety materials such as Toolbox Talks, training materials, jobsite signage and more. His efforts ensure we communicate with precision and accuracy to our diverse project teams and trade partners across our entire U.S. operations.
"These materials are vital to the success and safety of our projects. We can't afford for anyone to miss this information," Alex says. "Our teams need to be able to read and understand the information. Translating them is one way to make sure that's possible."
The Spanish translations of safety materials have been successful in maintaining greater cohesion and consistency for Balfour Beatty teams across the nation. Alex's previous role as a safety consultant gave him an understanding of unique demographic and dialect needs across different regions, and he hopes to see safety materials translated into more languages in the future.
Continuing Safety Education
Alex's passion for safety and desire to continue learning have inspired him to advance his education. Most recently, Alex earned his Associate Safety Professional (ASP) certification, a prerequisite of which was earning his associate degree in construction. The degree and certification processes were not easy; Alex studied and took classes on his own time, learning valuable lessons he brings with him each day to our jobsites.
"Ongoing safety training is crucial to our goal of achieving Zero Harm," says Eric Yates, regional safety, environmental and health manager. "Alex's initiative in pursuing and achieving the ASP certification demonstrates his continued commitment to improving both himself and our overall safety performance."
Though proud to have achieved his ASP certification, Alex is far from finished. "I never dreamed I would get my degree or certification, but now that I know I can do it, why would I stop here?" He is excited to tackle his next endeavor: earning his Certified Safety Professional (CSP) certification. The first step? Completing his bachelor's degree.
An inclusive safety leader who is continuously raising the bar in our pursuit of Zero Harm, Alex Ramos knows first-hand that choices made in a split-second can save a life. And on his watch, those choices are sure to be safe ones.