Trent Johnson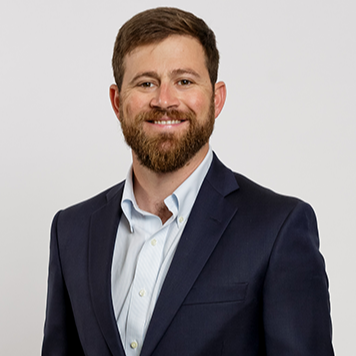 Relentless Ally
Taking RDU Airport to New Heights
Trent's leadership has been instrumental in nurturing Balfour Beatty's long-standing relationship with valued aviation client and executing on the challenges of working in an active airport environment.
Trent Johnson has always enjoyed a good challenge. For the past 15 years, he's had the opportunity to solve plenty of them at Raleigh-Durham International Airport (RDU), where Balfour Beatty has been entrusted to build 16 projects ranging in size and scope from a $700,000 carpet replacement to the recent win of the $400 million Runway 5L/23R Replacement Program. Although each project is unique, one constant remains: Trent's leadership has been instrumental in building strong teams that have successfully executed on the challenges of working in an active airport environment.
Trent didn't always envision a career managing large-scale construction projects. But when his first internship while attending NC State University led him to RDU, he appreciated the magnitude and complexity of the work and could envision himself one day solving challenges such as building in and around fully operational critical systems.
Although Trent has worked on a variety of project types - from multifamily to healthcare - since joining Balfour Beatty in 2013, his home away from home has been RDU, building over 1 million square feet as part of 16 projects. It is a point of tremendous honor for Trent, who notes that RDU is not only his "hometown airport" having grown up in Wake Forest, North Carolina, but also a major economic driver in the region.
While the size and scope of Trent's projects at RDU have varied, one constant has remained: Trent's belief that a project team's culture must be grounded in collaboration, respect and trust to be an effective construction partner.
"We've all worked the night shift. No one says, 'That's not my job.' If the people on your team are all willing to do whatever it takes to get the job done, it builds morale."
Trent counts himself fortunate to have worked with many of the same Balfour Beatty team members at RDU over the years, building a core crew that is uniquely positioned to understand and deliver on every stakeholder's needs and goals.
That understanding begins with ensuring construction activities do not impact an airport's 24/7 security operations and other critical systems such as baggage handling or Customs and Border Protection (CBP) screening that could result in costly shutdowns, delays or jeopardized public safety. It also requires in-depth knowledge of Transportation Security Administration (TSA) and Federal Aviation Administration (FAA) regulations—especially where runway construction is involved and may present hazards to aircraft or air traffic control operations.
Gaining Altitude
To minimize risks once construction begins, Trent drives early planning and collaboration with all project stakeholders.

"We believe that delivering a successful construction experience for RDU depends on more than meeting a project's budget and schedule," affirms Trent. "We plan for the potential challenges that a project at an active airport may encounter such as safe and secure access to work zones, impact of daily airport operations and the constant concern for material deliveries."

Trent employs strategies such as developing site logistics plans that minimize or eliminate the interface between construction activities and the public and performing as much work as possible in non-secure areas. Because all workers in secure areas must undergo an application process to obtain Security Identification Display Area (SIDA) badges, this can significantly impact a project's labor force and productivity. Projects that involve power switchovers or temporary outages require early communication and ongoing coordination with the client.

On the Terminal 2 Passenger Screening Checkpoint Expansion project, the team added two lanes to the security checkpoint while working adjacent to the active security screening area. Careful coordination of all systems was required to ensure operations of the TSA checkpoint were never impacted. In a single overnight shift, the team erected a pre-finished wall system as the temporary security walls, effectively separating the construction areas from the public security lanes. The expansion was then completed in the non-secure construction space, and the new lanes were unveiled overnight after all construction had been completed.

Beyond the day-in and day-out operational excellence Trent helps deliver for RDU, he understands the immense value in achieving an early project delivery. During the initial months of the COVID-19 pandemic, Balfour Beatty was able to accelerate the Runway 5L-23R Preservation project due to the reduced flow of air traffic.

Originally, the team was slated to begin the third phase of this four-phase project in early 2020. One of the major logistical considerations leading up to this point had been the need to re-open the runway daily to accommodate RDU's international flights. When restrictions were imposed on international flights, the team was able to work with RDU and project trade partners to occupy the runway and complete the remaining work, which included an additional 25 slab replacements in only 35 days, ultimately completing the project five and half months early. This early delivery allowed RDU to eliminate an additional 57 runway closures that were originally scheduled to complete the project.

On other projects, Trent leverages cutting-edge technologies to improve efficiency. Because runway concrete must be able to withstand the weight of aircraft, construction teams test samples before it is poured and incrementally while it is curing to ensure proper temperature readings. This can be a time-consuming and often inexact process.

On the Runway 5L-23R Preservation project, the team used a wireless maturity meter that enabled every project team member, including the client, to remotely access readings from a Smartphone app. This real-time monitoring was imperative since the concrete had to reach the strength required for an aircraft landing within 12 hours of placement. Rather than wait several hours between physically testing samples, the strength of the concrete was able to be tracked in real-time to ensure that all parameters were in place to open the runway each morning.
Ready for Take-Off
Throughout his time at RDU, Trent has been a consummate Relentless Ally for the airport, developing a trusted partnership and achieving a proven track record that has contributed to Balfour Beatty's repeat award of multiple projects. As a tireless advocate for RDU, Trent understands the importance of treating the traveling public as his client.

"As a true Construction Manager at-Risk partner, we're looking out for RDU in every facet of their business. Their number one priority is the public, so we've made it our mission to ensure the public is at the forefront of our planning and operations."

Whether he's helping RDU achieve their vision of delivering a world-class airport experience or building new education, commercial or residential structures to support one of the fastest-growing regions in the U.S., Trent can be counted on to lead project teams with an unrivaled commitment to operational excellence and customer service.