Bob Mrdjenovich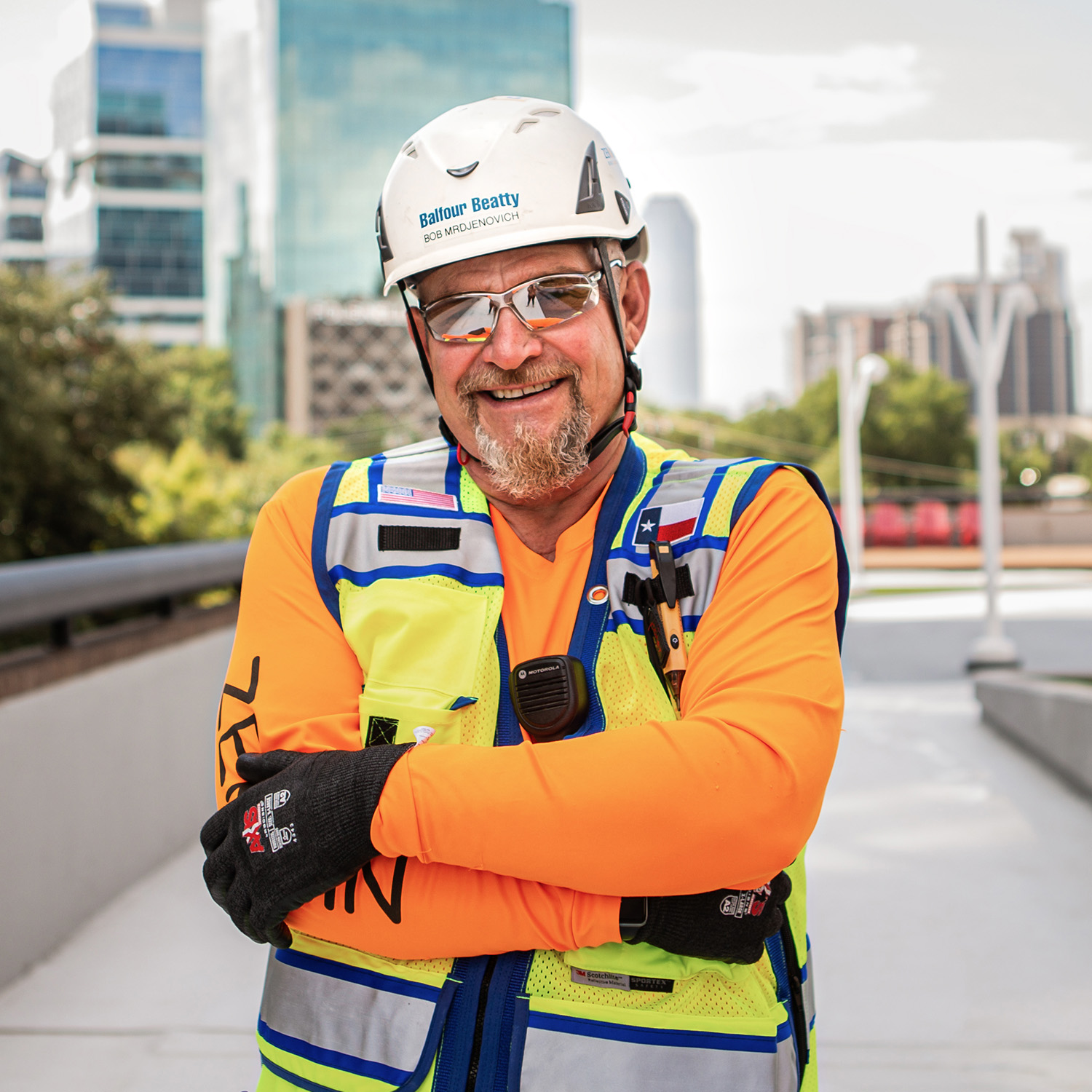 Relentless Ally
Safety Bob: The Capacity to Lead and Character to Inspire
You don't get a nickname like "Safety Bob" overnight.

Maybe it was born out of the way people perplexedly linger on that first syllable of his last name, waiting expectantly for Bob to finish it. "Mrrr… Mrrr…"

"MER*JEEN*O*VITCH," he's learned to sound out before another tongue-tied iteration. But perhaps the alias stems just as much from Bob's unique-if-hard-to-pronounce surname as his reputation for honesty, fairness and humility – traits that make our trade partners trust him and his colleagues love him.

When Bob started out in the construction industry, the nineteen-year-old high school sports standout was certain he'd bucked his familial destiny. Beginning as a laborer and going on to become a licensed carpenter, the Wisconsin native was seemingly as far away from the teaching profession as the sun is from Green Bay's Lambeau Field on a frigid January day.

But Bob, who never lost his passion for athletics or the camaraderie that comes from participating in them, would take on yet another title beginning with the letter c. Carpenter by day, coach by night, Bob was – unbeknownst to him at the time – laying the foundation for a career in construction safety.

But it would become so much more than a career. While working as the director of maintenance at a Wisconsin college, Bob witnessed two accidents as alarming as they were avoidable. "I realized safety was my calling," Bob recollects of this life-changing moment. The principles that guided Bob both as a player and coach to countless victories would go on to influence his philosophies about safety.

"To achieve Zero Harm, you need inspirational leadership," asserts Bob. "That means I have to walk the talk. When I give subs my word on something, I have to follow through." Beyond personal accountability, Bob is a staunch believer in handling safety infractions in a constructive manner. "I never want to be a disciplinarian or take someone off a job for one mistake. I always ask myself the question, 'how can I develop this worker to make him or her an asset to the team?' "

Seeing potential in everyone? Transforming setbacks into stepping stones? Spoken like a man born to teach.

Bob officially became a Relentless Ally when he joined Balfour Beatty in 2015 after working for our MWBE partner on the Tarleton State University student housing project. But in many ways, he's been a Relentless Ally his entire career, impacting hundreds of impressionable tradesmen and teenagers alike.

Bob, who knows better than most that one star a winning team does not make (unless you're talking Aaron Rodgers, of course), is quick to credit his mentor, Hank Mouser, and the entire Texas safety department for bringing him into the fold. "This is the most interesting job I've ever had," praises Bob. "More than any other company I know, Balfour Beatty employees are believers in the team concept. I just enjoy putting in a good, hard day's work."

Today, Bob has unofficially retired from coaching – or at least that's what you'll hear in Dallas' youth sports circles. But even though Bob has stepped away from the playing fields and the fanfare of cheering stadiums, choosing instead to spend much of his free time with his wife and his Harley on the open road, his competitive fire still burns brightly.

It can be observed when he exchanges a gloved handshake with a foreman or gently pulls aside an ironworker who has forgotten her glasses. It can be felt when he facilitates OSHA 10/30 hour classes. It can be heard when he testifies about distracted driving.

Carpenter, coach, champion. Does Safety Bob encompass them all?

You betcha.